HOW
TAPAY
BUSINESS
WORKS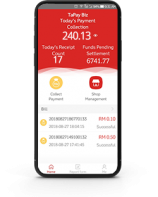 STEP 1:
Open up your TaPay Biz App

Dont have one? Scan the displayed QR Code!
STEP 2:
Show your QR-Code to customers to scan
Accept payment by showing your Generated or Static QR Code!
STEP 3:
Check your transaction history and see how well you're doing
Received real time reporting wherever and whenever you are!
Collect Payment
Collecting payment become easier, with a single scan the payment will go directly to your bank account
Real-Time Reporting
The application can shows a transaction report by daily, monthly and yearly.
Refund features
No worries; refund your customer with a single tap!
Transaction History
Received transaction within  the app for every transaction
No more being stuck in one spot or tied to credit card terminals (and fees!),

with TaPay all you need is a QR code or a mobile device and you're in business.
Say goodbye to stress, and hello to TaPay

​

.