Fullrich Malaysia, AFFIN Bank & MSU team up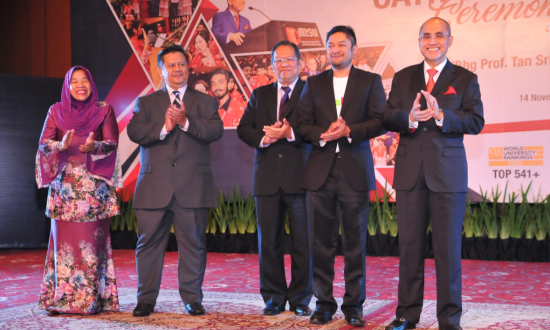 Fullrich Malaysia Sdn. Bhd. together with its strategic partner, Management Science University (MSU) & AFFIN Bank Group launched a new mobile application, MSU Mobile App, to help MSU communities stay connected.
The application, which is available on the Apple App Store and Google Play Store, has been downloaded on more than 5,000 devices since it first introduced in 2018.
Fullrich Malaysia's Chairman, Mr. Sun Jian Wei said, MSU App is a mobile app exclusively made for MSU students, and it's entire community.
"Built by Fullrich Malaysia, MSU Mobile App also comes with an e-wallet function powered by TaPay," he said.
He added, the app would also assist user's daily activities by providing endless value-added services such as QR Attendance, QR e-Payment, and Peer-to-Peer e-Money Transfer.
"With a simple scan of QR Code, MSU Mobile will record your attendance for various activities including class attendance, extra-curricular activities attendance, meetings, and other attendance reporting," he said.
With the QR e-Payment feature, MSU Mobile app users are now able to make payment by simply scanning the QR code displayed at participating merchants inside and outside the MSU Campus. Meanwhile, the Peer-to-Peer e-Money transfer will allow the user to transfer e-Money into their friends' accounts.
Meanwhile, President & Chief Executive Officer of Fullrich Malaysia, Mr. Hudhaifa Ahmad said, another feature offered, the in-app food ordering system will allow users to place food orders at all participating stalls, thus saving the time of MSU communities who are busy with various activities.
Hudhaifa said additional features like class and registration details, emergency contacts for each campus, campus events and building maps, targeted notifications, financial aid disbursement information, as well as smart parking and eMall, are currently in development for future releases.
"Using our robust mobile app is the most convenient way for MSU students. So many people spend a large amount of time on their mobile devices, and the MSU Mobile App keeps the students engaged and up-to-date on everything they need for their college experience," said Hudhaifa.
To continually improve the experience, the development team is seeking feedback from students. "We hope this app can be beneficial for the students and the MSU communities," he said.
Meanwhile, MSU's President, Professor Tan Sri Dato' Wira Dr. Mohd Shukri Ab Yajid, said,  the main purpose of the E-Wallet via MSU Mobile App campaign was to raise awareness and encourage the use of mobile phones as a cashless payment method for MSUrians not only in MSU main campus in Shah Alam but also all MSU College campuses nationwide.
"This cashless facility is an alternative to conventional methods and aims to reduce the risk of cash management during payments. In addition, it also will support our mission to become a 100 percent technology embedded university.
Group Chief Executive Officer of Affin Bank Berhad, Mr. Kamarul Ariffin Mohd Jamil, said, "We at AFFINBANK are glad to partner with Fullrich Malaysia in providing the convenience of payment services for the Management and Science University's community. We also look forward to how we can best serve our valued customers through our suite of products and services.
To stay up-to-date on new MSU Mobile App features and releases, visit http://www.fullrich.com.my.
Related Post