FULLRICH, LABUAN INTERNATIONAL SCHOOL INK DEAL ON SMART SCHOOL COLLABORATION
The Borneo Post (Sabah) 17 Jan 2020
LABUAN: Approved e-money issuer Fullrich Malaysia and its e-wallet brand TaPay yesterday signed a Memorandum of Understanding (MoU) with Labuan International School (LIS) as part of its on-going effort to help empower the smart school system the country.
As Malaysia's educational sector moves towards digitalisation, the MoU with LIS will see both parties leveraging Fullrich Malaysia's technology.
Fullrich Malaysia and TaPay chairman Sun JianWei said under the MoU, both parties would work closely in mutual areas of interest and facilitate each other in developing a technology-embedded school system and promoting and creating awareness on becoming a cashless society.
He said among the things that could be explored through this partnership are a cashless payment system in the school cafeteria an tracking student attendance with QR codes.
"This technology paves the way for teachers and students to enjoy greater freedom and control in the classroom and in the school environment with user-friendly technology," he said after the MoU signing here yesterday.
The MoU was signed by Fullrich Malaysia vice president Safwan Abu Zarin while LIS was represented by its chief executive officer Jaffree Ismail.
Safwan said under this MoU, both parties will also explore areas that could meet the needs of all students, staff and parents in making LIS a technologyembedded international school.
"We are honoured to be working together with LIS on this meaningful project, which gives us a tremendous opportunity to play an essential role to digitalise the educational sector in line with IR4.0.
"We hope we can roll out all the plans that have been lined up for this school as we already have the expertise," he said.
Jaffree said LIS looks forward to the collaboration with Fullrich Malaysia and TaPay as part of its contribution to accelerate migration to electronic payments (e-payments) which would greatly benefit potential users in terms of cost savings and an efficient payment process.
"This is also in line with one of the nine focus areas under Bank Negara Malaysia's Blueprint to drive Malaysia's transition to a high value-added, highincome economy with adequate safeguards to preserve financial stability.
"We have full confidence that Fullrich Malaysia and TaPay would accord our students and parents the full range of benefits arising from its utilisation of the e-wallet in our daily operations, once implemented," he added. – Bernama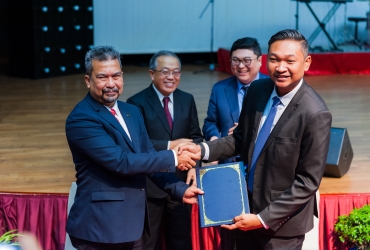 Related Post