Fullrich, Agile Inks Deal To Explore Smart Property Collaboration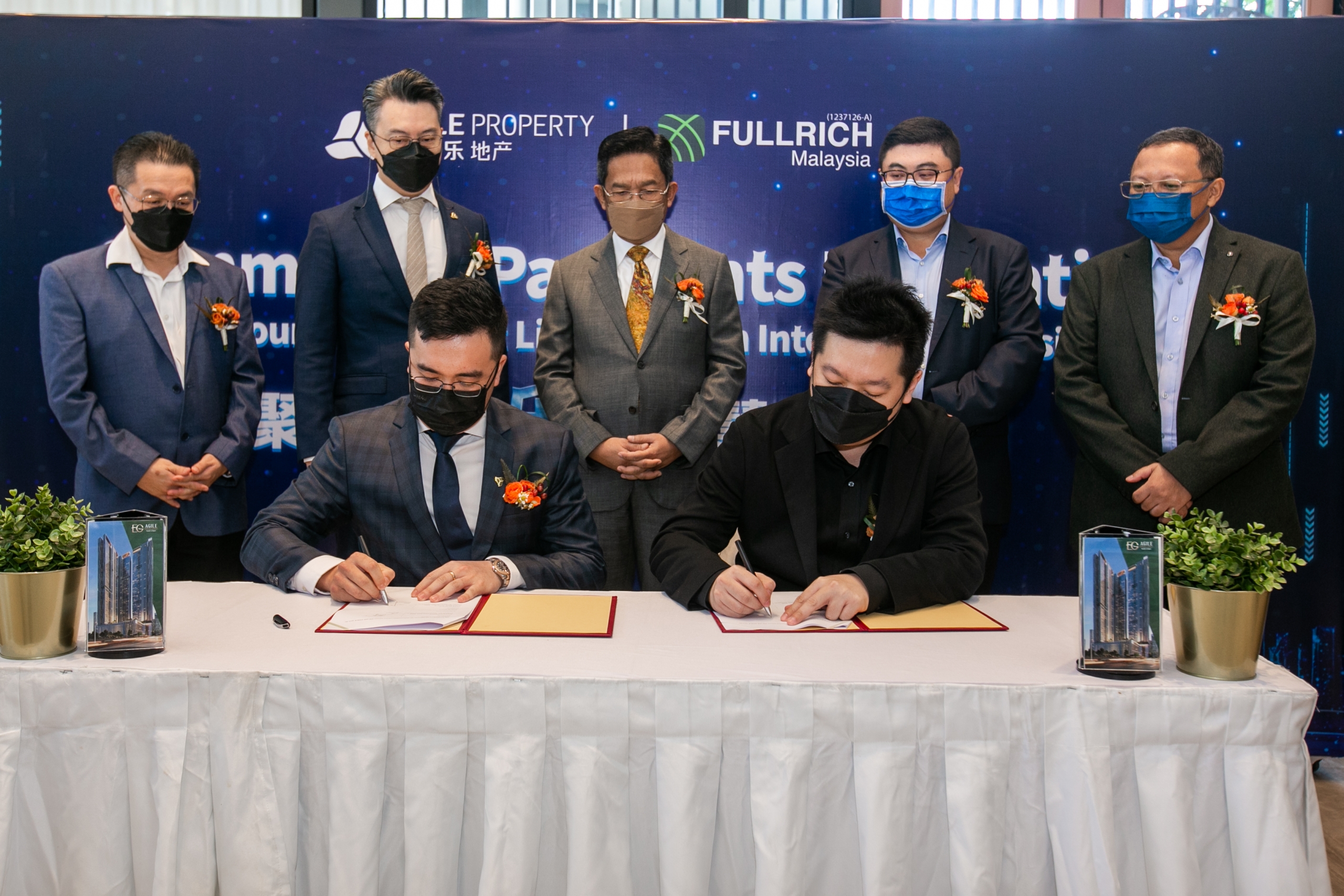 KUALA LUMPUR April 26th – Fullrich Malaysia Sdn. Bhd. (Fullrich Malaysia) and Agile Real Estate Development (M) Sdn. Bhd. (Agile) today ink the deal to develop a Smart Property Mobile Application. The memorandum of understanding (MoU) signing ceremony took place at Agile Embassy Garden, signed by Fullrich Malaysia's Chief Executive Officer, Mr. Lim Kar Aik and Mr. Yelo Yip, Marketing Director of Agile, witnessed by Yang Berhormat Datuk Seri Jalaluddin Bin Alias, Deputy Minister of Wilayah Persekutuan Kuala Lumpur.
As the world becomes more mobile and "appified," it is necessary for industries to move forward to a more digitalized ecosystem. Agile embarks on digitalization of the Property Development and Management by teaming up with Fullrich Malaysia, a fintech solution company to develop the Smart Property Mobile Application.
Agile Group Holdings Limited is a multinational company and has been in the market for nearly 30 years; offers diversified business solutions and specializes in real estate development. Agile handles more than 100 projects in more than 60 cities and regions under its portfolio, covers high-end, low-density residential products, residential communities, tourism real estate, commercial development and townships; provides dream living space for more than 1 million residents, and has become a highly competitive comprehensive real estate development company. Agile started to expand to overseas markets in 2015 and currently managing a few projects in Cambodia and across Kuala Lumpur, Malaysia, such as Agile Mont Kiara, Agile Bukit Bintang, and Agile Embassy Garden
As an approved e-money issuer, Fullrich Malaysia provides integrated financial technology payment and white-label mobile application solutions. Fullrich Malaysia offers holistic technology solutions that can be customized to suit any entity across various industries and currently, they have been working with its partner in the education and retail industries on e-Wallet white label mobile applications.
According to Fullrich Malaysia Chairman Mr. Kamarul Ariffin, "Both parties will work closely in mutual areas of interest and facilitate each other in developing a technology-embedded property-related and promoting a cashless ecosystem."
The Smart Property Mobile Application concept targets household owners and Agile's property communities, consisting of smart property features such as visitor pass, announcement, home fix, bill payment, social interaction, and embedded with e-payment functions.
"In this context, the Memorandum of Understanding and its accompanying action plan bring our work in line with the goals and targets set out in Malaysia's property future outlook, an eco-friendly, futuristic, and digitally connected homes and eventually creating and complimenting Smart City agenda." He later adds.
Agile Malaysia Marketing Director, Mr. Yelo Yip, said, "Agile's first project in Malaysia is Agile Mont Kiara, which was developed and handed over to the respective owners in November 2019. Our ongoing projects, such as Agile Bukit Bintang and Agile Embassy Garden are expected to be handed over within these two years' time, involving MYR 4 billion in development value. The company aims to triumph in Malaysia by taking the prominent location in Kuala Lumpur as its investment to build an international living community standard."
"In this event, the two companies will cooperate to plan and develop a Smart Property Mobile Application that focuses on the international community of Kuala Lumpur, Malaysia, by providing and promoting a convenient community lifestyle, payment channels (especially for foreign residents from other countries, including investors), improve humanized management services and eventually enhanced Kuala Lumpur's international community residences image. At the same time, a series of digital payment platform concepts are used to drive the improvement of cashless and secure transactions in the community." He adds
Mr. Sun Jian Wei, Founder of Fullrich Malaysia, said, "Today, Agile has taken a step forward towards technology advancement by digitalizing its services and we are honored to be working together with Agile on this project. This partnership provides an incredible opportunity for both organizations to play a role in digitalizing the property sector. This project not only promotes convenience but also improves household safety, communication, and control for Agile's property management and its residents."
Related Post