TaPay is now available at Daboba @ MyTown Cheras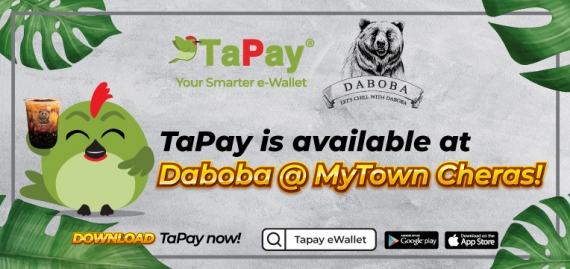 I think our love for boba milk tea will never get old. With so many boba shops popping up like mushroom these days, one can never say no to boba milk tea, right?
One of my favorite boba brands is Daboba. It offers nine different boba series and has a very unique flavor. Like for instance, boba and cheese. Who would've thought these two can be mixed and become so yummy!
I got the chance to go visit their store at MyTown, Cheras and the good thing about this store is, they accept TaPay! It makes me so so proud, happy and excited all wrap in one knowing that my favorite boba shop is now embarking a cashless journey.
The store is not as busy as it is on the weekend when I was there. Maybe because I was quite early, or maybe because everyone is staying indoors because of the haze..it might be.. anyway, I had my own sweet time choosing what to order. I just couldn't decide because their drinks are so so good!
Their top 3 most popular drink is Roasted Brown Sugar Pearl Fresh Milk Tea and costs RM13.90, while their Honey Golden Pearl Green Milk Tea is costs only RM9.90 and Mango Frappe (yogurt) is RM13.90 per cup.
So I chose the Honey Golden Pearl Green Milk Tea because green tea is my favorite and it is full of antioxidants and good for your health. So I am not really guilty here, am I?
Like I mentioned before, Daboba at MyTown Cheras currently accepts only cash and selected e-wallet as their preferred payment method. So, if you don't have an e-wallet yet, I'd recommend you to try TaPay.
It is fast, easy and secure. All you need to do is lookup for TaPay at Google Play Store or Apple App Store, download, register, reload your credit and you are ready for a whole new journey with TaPay!
Now, who wants some Daboba?
Merchant info: Daboba MyTown – G-018, Ground Floor, MyTown Shopping Centre, No.6, Jalan Cochrane, Seksyen 90, 55100 Kuala Lumpur.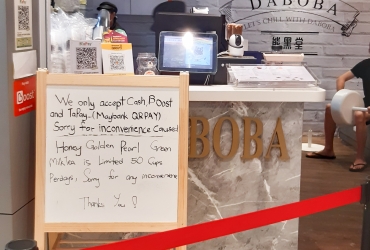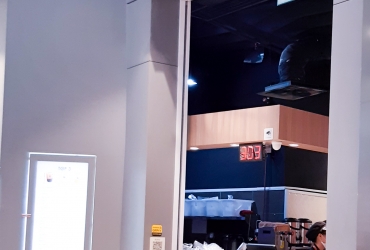 Related Post